---
Bruce Chehroudi, PhD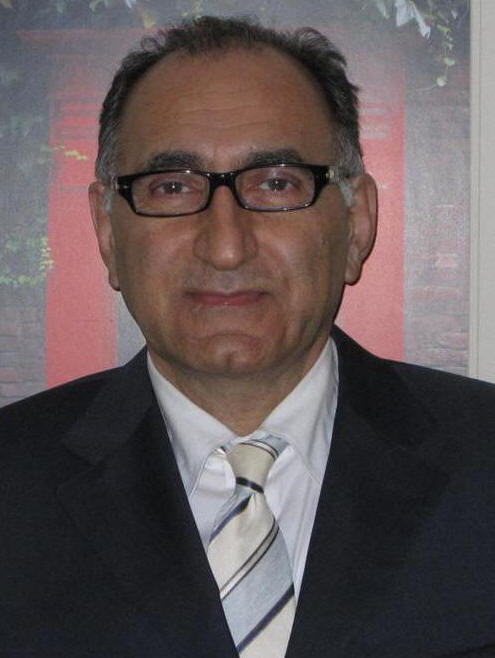 Dr. Chehroudi, Managing Director, has accumulated years of technical and leadership experiences in different capacities and organizations. This includes such positions as a Principal Scientist and Group Leader at the Engineering Research Consultants Inc (appointed at Air Force Research Laboratory (AFRL)), a Chief Scientist at Raytheon STX, a Visiting Technologist at Fordís Advanced Manufacturing Technology Development (AMTD) center, a tenured Professor of Mechanical Engineering at Kettering University and University of Illinois, and served as a Senior Research Staff/Research Fellow/Post-doctorate at Princeton University.
Dr. Chehroudi directed numerous multimillion dollar interdisciplinary projects in areas involving chemically reacting flows, combustion and emission of pollutants, sustainable and alternative energy sources, distributed ignition, material/fuel injection, advanced pollution reduction technologies, propulsion concepts, gas turbine and liquid rocket engines, combustion instability, laser optical diagnostics, spectroscopy, supercritical fluids and applications in environmental and propulsion systems, advanced composites, MEMS, nanotechnology, and micro fluidics.
He has won many merit and leadership awards by such prestigious organizations as the,
Society of Automotive Engineers (SAE):

- Arch. T. Colwell Merit Award for technical excellence only to top 1% yearly,
- Ralph R. Teetor Award for outstanding teaching/research/leadership,
- Forest R. McFarland Award for sustained leadership in professional and educational service and a key contributor to the Continuing Professional Development Group,
- Appreciation Award for 10 years of dedicated and inspiring service and commitment to providing quality technical education, and
- Outstanding Faculty Advisor,
American Institute of Aeronautics and Astronautics (AIAA):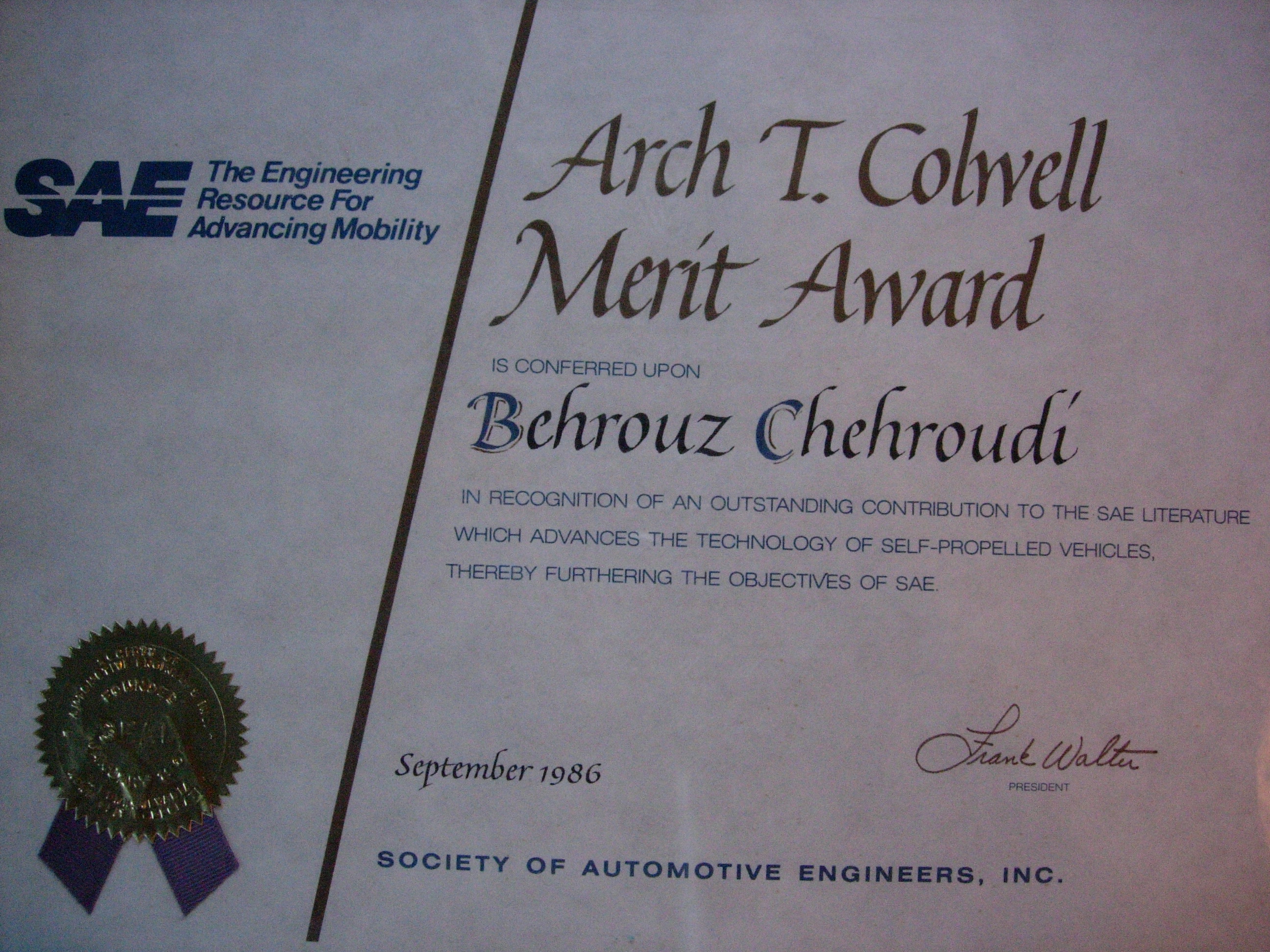 -Best Publication Award of the Year,
-Associate Fellow (in recognition of professional standing and successful practice)
Air Force Research Laboratories (AFRL)
-Outstanding Technical Publication Award,
-STAR Team Award for demonstrating world-class combined scientific and leadership achievements,
Institute of Liquid Atomization and Sprays Systems (ILASS):
-Marshall Award for best publication with lasting contributions,
Liquid Propulsion Sub-committee of Joint Army-Navy-NASA-Air Force (JANNAF):
-Best Liquid Propulsion Paper Award involving undergraduate/graduate students,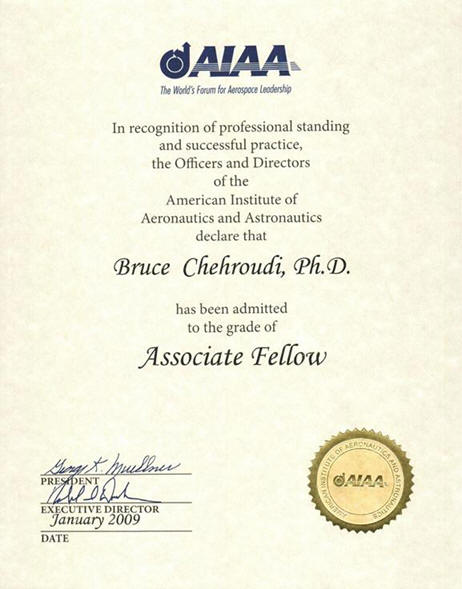 2nd International Symposium on Turbulence and Shear Flow Phenomena:
-Top 10 Technical Publication Award
He has been a consultant with many organizations such as, Ford, GM, Honda R&D, AFRL, Honeywell, NASA, AFOSR, VW, GE, Bosch, Siemens, NGK, Cummins, UTRC, and TRW. Through professional societies, Dr. Chehroudi delivers invited professional seminars on Management of R&D Teams and Organizations, Management of Innovation, Combustion and Emission of Pollutants in Automotive and Gas Turbine Engines, Ignition Issues, Gasoline Direct Injection engines, R&D on Homogeneously-Charged Compression Ignition (HCCI) engines, and Liquid Injection Technologies.
Dr. Chehroudi has been involved in, and managed, a number of multimillion-dollar R&D programs with successful results that are being currently used, either as design tools for product development, or have already been incorporated in existing products. Some non-limiting samples are cited here. His rapidly-scanning laser Doppler velocimeter design was the fastest scanner at the time, which was used to characterize separated turbulent boundary layers (turbulence, auto- and cross- correlations. Journal of Fluid Mechanics) similar to what occurs on airplane wings and gas turbine compressors. Space-time correlation coefficients in the backflow region of a separated flow are reported and analyzed for the first time in the literature. After 10 years, this work was selected as an outstanding contribution in the SPIE Milestone Series in Laser Diagnostics, edited by Ronald J. Adrian and Brian J. Thompson. One of his works at Princeton University Engine Research Laboratory, sponsored by the Department of Energy (DOE) Direct Injection Stratified Charge (DISC) engine program, a consortium by GM Research Lab, SANDIA Combustion Research Facility, Los Alamos National Lab, and Princeton University, was related to characterization of the dense intact core region in diesel fuel sprays. His multidisciplinary team management and innovative electrical conductivity method produced results that have passed the test of time and considered highly-creative and instrumental for the modeling/simulation as well as design of fuel injectors in such engines. Results have been used in the development and validation of the fuel atomization section of the KIVA computer program, being the backbone of most combustion modeling simulation in internal combustion engines. For this work he and his team members were awarded one of the most prestigious technical merit award (Arch T. Colwell Merit Award) by the Society of Automotive Engineers (SAE). Also, another work conducted on aircraft and ground-based gas turbine engine fuel spray combustion and emission issues was cited in the CRC Handbook of Fluid Dynamics as "significant example of applied engineering research done on the subject with many commercial applications". His interacting-sprays (or impinging-sprays) injection strategy (Sponsored by the General Motors) for simultaneous NOx and soot reduction/control, a cross fertilization of rocket F-1 engine technology to diesel engines, is considered an ingenious approach with highly flexible features to produce not only "pilot and split injections," but additional strategies for emission reduction and efficiency improvements. This concept has recently been used in diesel engines modified for the early-injection homogeneously-charged compression ignition. See a video describing details of the Interacting Sprays Injection System Test Setup (High-speed internet facilitates downloading from the Dropbox. Yet another example, is his leadership on a program related to supercritical cryogenic liquid propellants used in H2/O2 Space Shuttle Main Engine (SSME). This work, and his team, were recognized by another highly prestigious technical merit award through Combustion and Fuel Technical Committee of the American Institute of Aeronautics and Astronautics (AIAA). His newly-proposed combustion instability theory for liquid rocket engines is yet another unique contributions recognized by his peers as innovative and highly creative. Expansion of his work into nanotechnology also produced the only nanotechnology-based light-activated volumetrically-distributed ignition system for both automotive (HCCI) and rocket engine applications. His creative idea and the R&D work he directed, delivered an elegant answer to a technological barrier referred to as "controlled autoignition", being at the heart of the next generation advanced HCCI engines. His innovative imagination, initiative, leadership, and technical vision in this area have, not only set the stage and the R&D roadmap for new applications of nanotechnology in volumetrically-distributed fuel/propellant ignition for the first time in literature with subsequent followers, but also convinced program managers at AFOSR in creating a fully-funded five year program for this work while at AFRL.
Throughout years, Dr. Chehroudi has evolved into a leader who forms synergy, cultivates a culture of innovation and collaboration, communicates unambiguously and respectfully, builds trust and consensus, injects motivation and inspiration, and guides/encourages strategic/systemic thinking. These incipient talents are those he has nurtured through interactions with colleagues/mentors which have been critical and precious elements facilitating stellar achievements from his teams. Moreover, he brings extensive level of technical leadership and presentation skills (to technical/nontechnical, C-level, & clients) in a broad range of disciplines/technologies, which are instrumental in leading multidisciplinary teams, in technology development, forecasting and transfer, as well as in revenue-generating new product development (NPD) and R&D efforts. Lastly, when a solid educational background (PhD/MS/BS in Mechanical/Aerospace Engineering and MS in Economics/Management) is added to the mix, the package as a whole creates a multidimensional professional who understands and quickly grasps the importance and potential of research/development activities for commercialization in a wide range of science, technology, and engineering fields and who markets such opportunities and ideas towards goals/objectives of the organization.
Dr. Chehroudi has a PhD in Mechanical & Aerospace Engineering and Post-Doctoral Fellow (Princeton University), MS in Mechanical Engineering (Southern Methodist University, Summa Cum Laude), MS in Economics (Swiss Finance Institute, Magna Cum Laude), and BS in Mechanical Engineering (Sharif University of Technology). He is a senior member of the American Institute of Aeronautics and Astronautics' Propellant & Combustion Committee (2008-present) and was honored an Associate Fellow title from the American Institute of Aeronautics and Astronautics.
He acts as a reviewer for many scientific and engineering journals and publishers, is Editorial Director of the J&N Group (Powertrain International, Laser Applications International, Automotive Leadership) has delivered over 200 presentations in technical meetings and to nontechnical audiences and has over 20 technical reports (Princeton University, General Motors, Ford Motor Co, Department of Energy, NASA, Air Force Research Laboratory).
He has also produced five 600-plus-page monographs on combustion and emission of pollutants from mobile power plants, ignition technologies, liquid material injection, and nanotechnology, two book chapters on liquid propellants and combustion instability and applications of graphene (a nanotech product) in ignition and combustion of fuels/propellants, ground-breaking patents on applications and synergy between nanotechnology, light, and chemical reaction for a light-activated volumetrically-distributed ignition of fuel-air mixtures and liquid fuel sprays with applications in Low Temperature Gasoline Combustion (LTGC) or HCCI, and liquid rocket engines.
Dr. Chehroudi has more than 150 publications with extensive experience in both scientific and management areas and intensive trainings in finance and financial engineering.
Dr. Chehroudi's List of Publications
Dr. Chehroudi's Awards and Accolades
Dr. Chehroudi's Publications in Google

_________________________________________
_________________________________________
Yasi Campbell
Yasi Campbell is Manager of Business Development at ATC. Yasi's passions lie at the intersections of education, technology, research and entrepreneurship. She has been a Product Manager at the Cornerstone On Demand, working specifically on educational software designed for larger-scale learning purposes. She is also a consultant to various education-related technology companies on program design, community building, and content production. Some of her clients include Common Sense Media, Green Dot Public Schools, Real Office Spaces (ROC) and School of Devs. One of her expertise is in iterative skills-based learning environments. Additionally, she is a lead board member of the Associate Board of Visitors for the Department of Economics at the University of California, Los Angeles (UCLA). She heads the alumni effort in creating the Bruin Development Academy and the Social Enterprise Academy - both skills and project-based learning courses.
Previously, Yasi was the Education Programs Manager at General Assembly in Los Angeles where she was responsible for the development and production of all of their Los Angeles education offerings. She trained and led a team of 26 instructors to advance the education of over 200 students. She improved the internal company metrics of satisfaction, instructor development and retention by 40%, a company-wide all-time high historical record. Prior to General Assembly, Yasi worked as a Senior Research Manager at Lieberman Research Worldwide, with many years experience in market research. She is an expert in creating, executing and managing large-scale qualitative and quantitative research projects. Overall, she has a multidisciplinary background with strengths in a number of areas including - learning strategy and product design, employee training and mentorship, programs creation/planning/execution, evaluation, improvement and iteration.
Yasi earned her B.A. in Economics and Applied Developmental Psychology from the UCLA in 2009.
_________________________________________
NOTE: Contact Advanced Technology Consultants for consulting needs and opportunities in this area.
---
Copyright 2017 - Advanced Technology Consultants- All Rights Reserved